+ a Freebie:
Optional Discounted Items:
---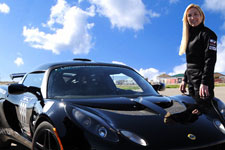 You have the best customer service department I have ever dealt with. The first suit I ordered was too big. I've had trouble with this type of thing before, because I think most company's are used to dealing with a male clientele. PROFOX exchanged for a smaller size and I received it in two days. Thanks again!

Kelley S. #999
Lotus Challenge Series
Las Vegas, NV
Well made. Fits nicely.

Very satisfied...high quality...great prices.... after seeing the products I'm going to order SFI-20 shoes and gloves soon !!

Medium size for me was perfect (5'8", 170lb). Very comfortable, easy to get on, a little harder to get the pants off. I needed everything so the kit was a perfect solution for me. Very satisfied!

Jacket is a bit big

Absolutely 1st class product, looks like it was especially made just for me. it is perfect. the Profox staff were at their professional best. Only 5 days to ship from So Cal to the UK. I will be telling all my race friends and competitors all about Profox and their products. Once again WELL DONE Profox. Thank you so much.....Don Yardley UK

Fits well, comfortable, and looks sharp.

Looks good, fit is good. Hopefully I never have to find out how well it works.