+ a Freebie:
Optional Discounted Items:
---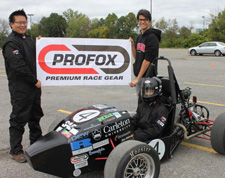 Carleton University's Ravens Racing competes in the Formula SAE series, which is a student design competition organized by SAE International. The concept behind Formula SAE is that a fictional mfg company has contracted a design team to develop a small formula style race car.

Ravens Racing
Carleton University
Ottawa, CA
Affordably priced and very well made. The fit was perfect for me and the shipping was fantastic. Highly recommend buying from Profox.

I purchased this kit, with some of the add on pieces, 2 years ago. Overall I'm extremely happy with the help I got from staff (I called and reviewed my options and what would be best for me), quality of what I got, how it has held up, and what I paid. They even helped me out when I ordered the wrong size and had to swap out (I don't believe the Tall sizing options were available back then). I've used all items several times over the last few years and they're still in near new condition. The suit is very heavy (which I think it s good thing) for a 5 rating. Gloves fit well and socks are nice. My only compliant is that one of the shoes fits me weird or rubs and starts to hurt after a while but it's not a super big deal. Overall I'm extremely happy I found Profox when looking, and they offer these essentially "turn key" kits for a realistic price. That is big because people often don't want to do safety items because it's "not in the budget". Well with these kits and the pricing I don't see how any one could say they couldn't make this work. I actually just purchased one of the undergarment kits to increase my safety level even further, and because I'm so happy with the stuff I already have.